LIQUIDATION SALE - Regular - Handtied Weft Water Wave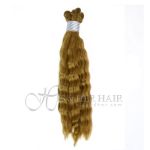 REGULAR - Hand-tied Weft Water Wave SALE - 100% HUMAN HAIR for WEAVING
Deep wave for weaving.
Lenght - 10" - 12"
Great for permed look. Create a seductive look to enhance your style.



**SALE** (Reduced price due to quality that did not meet to our standard.** NO RETURN!)
***Please note that especially the liquidation items are old batches and textures may feel dry.***
(Number of pieces may vary on our handtied wefts due to the weight of 1/4lb.)
Prices are based on 1/4 lb. (4 oz.)
 
* Colors, textures & curl patterns may vary on shipments.