U-Tip - Cuticle® - Silky Straight (100 PCS.)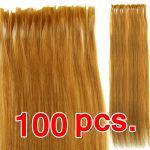 Pre-Glued Cuticle® Hair Extensions
Easy application using His and Her Extension Iron
Cuticle® Silky Straight
Lengths are available in 26", 31" and 36"
(It is recommended to use oil-free shampoo and conditioner.)
Prices are based on 1 order (100 pcs.)
It's made with His & Her BEST hair, Cuticle®.
Cuticle® is made from the best quality (healthiest) raw material. It is specially processed by our highest skilled technicians to give extra body and vitality to allow our customers to wear the Cuticle® for a longer period of time without the problems of tangling and matting.
For custom I-tip / U-tip, it may take approx. 2~3 days before it is shipped out.
Thank you for your understanding.