Magic Self Top Handtied Bodywave (HUMAN HAIR)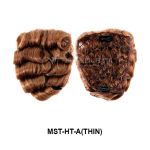 100% Human Hair

Handmade top piece for more natural look. Feather-like weight!

Texture: Bodywave
Base type: Honey comb shaped base, Hand made
Base size: Appx. 4" X 4 1/2"
Length: 4-6"

**Synthetic/Yaki are used for grays on Hairpieces**

1. MST-HT-A - Thin Base
PROBLEM WITH THINNING HAIR?
We have the solution!!
Able to use on the front or the crown area for individuals with little hair.
It can be weaved or clipped on. Use for both male and female.