LIQUIDATION SALE - Regular - Handtied Weft European Wave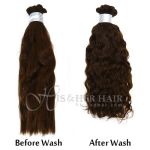 REGULAR - Hand-tied Weft European Wave SALE - 100% HUMAN HAIR for WEAVIN | Wet & Wave texture.
Ideal Texture for African American.
This coarse, kinky texture will wave when it is wet. You can blow dry straight to wear it kinky straight textured look. Ideal texture for African-Americans.
**Tip: For best waves, must be wet down with conditioner and water.
The coarseness of this quality will not create a wave pattern as deep as the Italian Mink® or the Cuticle® European Wave.
**SALE** (Reduced price due to quality that did not meet to our standard.** NO RETURN!)
***Please note that especially the liquidation items are old batches and textures may feel dry.***
(Number of pieces may vary on our handtied wefts due to the weight of 1/4lb.)
Prices are based on 1/4 lb. (4 oz.)
* Colors, textures & curl patterns may vary on shipments.