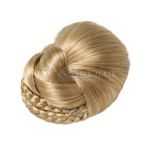 Delicate by easihair Formal Affair
Delicate is a contemporary updo with an old world twist.
The soft bundle of hair is gently combed back and tucked into an elegant knot, cradled by 2 small braids.
Delicate is the perfect hairpiece for your wedding, prom, or formal affair.
Add an exotic flower, sparkling rhinestones, or traditional pearls for extra drama.
Simply pull your own hair into a bun and cover with the dome shaped bun cover attachment,
then secure with the two 1 1/2 inch straight combs at the top and bottom.
Then, synch the drawstring to tighten around your own bun. For extra security there are also 6 bobby pin loops for maximum holding power.
Base Dimension :: 4 1/2" x 4 1/2"