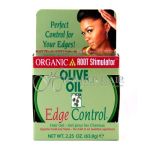 Organic Root Stimulator - Olive Oil Edge Control
A unique alcohol free formula that gives the hair superior hold without flaking.  It slicks and holds down edges while adding shine and moisture.  This non-sticky, non-greasy formula provides excellent hold without hardening the hair and is ideal for maintaining slick styles, It is great for relaxed and natural hair.
Olive Oil Edge Control contains natural ingredients and vital nutrients that work together to keep hair looking its best.  Key ingredients include olive oil and aloe vera that provide moisture and conditioning to rough, dry edges.  Wheat protein is added to provide strength to the hair and reduce breakage often caused by other styling gels.